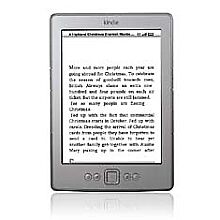 My parents gave me a Kindle last Christmas. Although I had hinted I'd quite like one, I wasn't expecting it and it was probably the best present I've received for years.
Since Boxing Day 2011, I have read 72 books on it, including the gripping trilogies of The Hunger Games and The Girl With the Dragon Tattoo, The Mystery of Crickley Hall, Peaches for Monsieur Le Cure, The Hangman's Daughter and The Shadow of Night, all of which I thoroughly recommend.
I
have also caught up with classic I should have read but hadn't like 'The Old Curiosity Shop' and 'Diary of the Plague Years'.
It's fabulous to be able to slip this slim contraption into my bag and know that I have a book suitable for myself and for M and R whenever we have waiting time. I've been grateful for the ability to read 'Fifty Shades of Grey' without anyone knowing, and I've loved being able to browse the whole of Amazon's bookshop in my pyjamas!
For anyone who says "I don't want a Kindle, I like books", trust me. I love books and that is why I love my Kindle.