A cute and quick geisha card. The soft candy colours and circles were inspired by this week's
Chicken Soup
recipe and the design by the Counterfeit Challenge sketch
here
. This month's kit is a lot of fun to use and with a great sketch and all the elements to hand, this card took me literally minutes to put together while the dinner was in the oven. I liked the result so I made a couple more!
I'm not a big fan of sketches for scrapbooking; I often find them difficult and restrictive. However, I have found recently that I am turning more and more often to sketches when I make cards. Maybe this is because scrapping is so much more personal; I am creating a memory of something or someone important so I want my pages to be entirely my own vision. On the other hand, cardmaking, for me, is a place to try out new techniques, have a play and use up my paper scraps. I see it more as an artistic exercise so a sketch is helpful and enjoyable to use. This one was particularly productive, although I broke away from the Counterfeit Kit for the purple butterfly card.
Creating a couple of quicky cards also takes me much less time than creating a 12x12 layout (as you can see, I save my distressing and handcutting for LOs and prefer the clean and simple look for cards) so I can make the most of that dead time while the children are watching TV and the dinner is in the oven. Many non-crafting friends ask me how I have time to make cards and scrapbook with 2 children and a teaching job. This is the answer - I find time in between the mundane housework.
I am also rather rigid about routine during termtime, so I know that I have to be productive with my time. If I am ever lucky enough to get an open-ended crafting session, like at a crop, I can push patterned papers around for ages before I glue anything down. At home, I have it all planned in my head so I get straight on with it whenever the opportunity arises (and again, another reason for using a sketch)
How about you? To sketch, or not to sketch?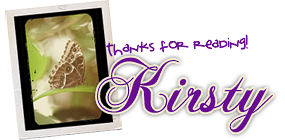 How do you make / find time to do what you love?